About SOS

The Substitute Organist Service (SOS) is powered by a simple to use and intuitive app that is available for iPad and Android tablets. Operating the SOS is simple but the technology is very powerful.
It works like this:
1. Choose your hymns, liturgy, and service music on our site.
2. We assemble your selections.
3. Download your order to the tablet that controls your church organ.
4. Touch "Play" for each track during worship, and sing.
SOS is unique because:
We assemble the music of your choice. No programming knowledge necessary.
Our system plays back on your organ. No CDs or sterile recordings.
We tailor your order, including liturgy and selected stanzas. Not just hymns.
We are always ready to play. No scheduling headaches.
We play to encourage singing. No background music.
We have trained, qualified organists. No embarrassing musical leadership.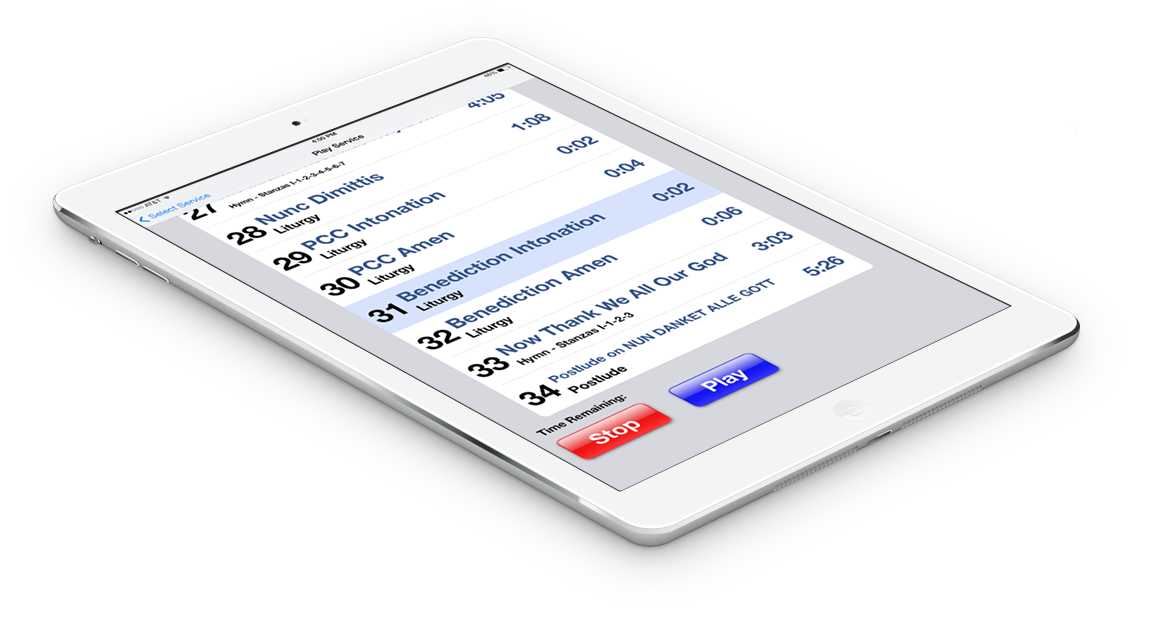 > 12 orders per year
$45.00/ea
13 orders/year
no contracts
≤ 12 orders per year
$65.00/ea
no minimum
no contracts
Demo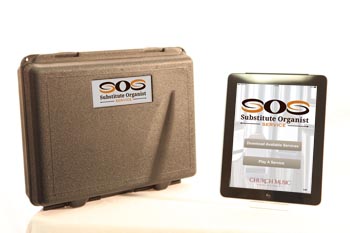 We understand that making a decision regarding the details of your church service is no easy task. After all, you aren't simply making a decision for yourself, but for your congregation as well. In order to make this process as stress free as possible, we have created a demo kit that allows you to experience the Substitute Organist Service in your own church environment with your actual church organ or sound equipment.
This allows you and other members of your congregation to try out a sample service with no obligation.
The demo kit includes a demo tablet along with access to demo accounts so that you can hear the quality of our music for yourself.
To make arrangements for a demo unit to be shipped to you, please contact us via the website or give us a call at (800) 651-7497.
Questions

Choosing a musical leadership solution for your church is a big decision and we understand that you may have questions. Below are answers to some common questions, if you have additional questions please contact us.
How does the Substitute Organist Service Compare to CDs and MP3 files?

The SOS sounds better – In most cases it actually plays your church organ.

The SOS is easier – We do all the programming, you just touch "play".

The SOS is tailored – Liturgy, hymns with selected stanzas, and service music are all arranged per your order.

The SOS is reliable – There are no timing interruptions. Your worship service flows smoothly.

How does the order process work?

Let's say you need an organist next Sunday:

1. Place your music order on our website.
2. We assemble your order, and let you know when it is ready.
3. Download the music to your tablet.
4. Plug the tablet into your church's organ or sound equipment and sing.

When do orders have to be in?

We ask for normal orders to be placed by Wednesday, for production by Friday, and use on Sunday. Because the SOS is commonly used as a back-up, emergency orders can be placed as late as Saturday, but please call us after a last-minute order is placed. Funerals can be accommodated in as little as one day.

What does the Substitute Organist Service Cost?

There are no contracts. There are no annual fees. Cost is on a per service basis.




Regular Rate: $45 per service if you intend to place more than 12 orders over the next 12 months.




Occasional Rate: $65 per service if you intend to place 12 or fewer services over the next 12 months. There is no minimum usage requirement, even to have the SOS available on an "as needed" basis. Events, custom orders, and mission congregation situations are negotiable. We bill you at month's end for services used.

What about set-up costs?

Most electronic organs, keyboards and sound systems operate with an iPad or Android tablet (see retail prices) and a cable ($25 -$75).




Pipe organs are each unique, and may require a MIDI conversion. Please inquire and we can help determine your best course of action.

Is our church organ compatible with the SOS software?

Just send us an email, or photos with your info. We will respond quickly.

We use __________________hymnal. Can you accommodate?

We have licensing agreements with many major publishers, and we are adding new hymnals all the time. Please call or email with your request.

Can we speak to others that use the SOS?

Yes! Our members love to share their experience with others. A current SOS member may be near you. We can put you in touch.

I'm an organist and would like to just take some time off? Can you assist?

Yes, that's what we are here for! Because there is no minimum usage requirement, you can simply place orders for when you expect to be out.
If you have further questions regarding the Substitute Organist Service or Church Music Solutions, we would be glad to help you. Please contact us so that we may address any other questions you may have about how our services could help your church.
Contact us